Shoe Clinic Mountainbike Duathlon Series
Last year's winner Jake Stow continued his good form, passing under the Tineli finishing arch first in the long version of race one of the Shoe Clinic Mountainbike Duathlon Series, held at Rabbit Island on Sunday April 26.
Stow will wear the Team Tineli leader's jersey into race two, as will German exchange student Laura Hoffmueller, the first woman to finish.
Despite the overnight rain, more than 160 names were on the entry list when the hooter sounded to start the event, held over a testing course in the forest at the west end of the island. Included in the race were some top athletes as well as some family entries including children as young as 8-years-old.
Xterra age group bronze medalist Cliff Bowman led after the opening 5km run, but Stow took the lead on the bike and held it through the final 2.5km run.
Hoffmueller made the most of one of her last chances to race in New Zealand, building an early run lead over Soozie Trice and Gaye Evans.
Evans slipped into second spot on the bike course and that's the way they stayed to the end of the race.
In the short race, 81 runners and 13 walkers set off down the narrow trail out of the Conifer Park transition area. In the women's section, Claire Erasmus shot off to an early lead over last year's series winner Karen Goodger in the 2km run section, with Georgia Anderson just one second back.
Glenys Karran and race sponsor Andrea Livingston were the next two women to reach for their bikes and it was Livingston who took control, going on the win ahead of Karran, then Goodger.
Last year's winner Wouter De Maat was back intent on defending his title in the short version of the race, but Paul Eggers matched him stride for stride finishing ahead of De Maat in the first 2km run, with Sean Doherty, Hayden Erasmus and Scott Barr tucked in behind.
It was the same story on the 7.5km bike, with Doherty just edging De Maat by seconds. In the final run, Doherty moved away for a 40 second win.
Doherty and Livingston will wear the Tineli leaders' jerseys into race two for this event.
Michael Harte claimed an emphatic victory in the walk section, taking the quickest time in all three sections, with Peter Hague and Steve Pauling second and third.
Winner of the women's walk section in 2007, Rebecca Wasley was determined to wear the leader's jersey in race two, and she'll do that thanks to a more than two minute victory over Charmaine Nathan and Leanne Murray.
Race two of the three-race series over the same course is in two weeks.
[caption id="attachment_41" align="alignnone" caption="Long Course Start"]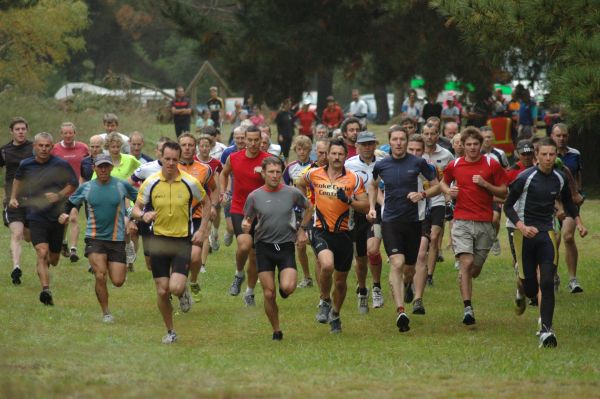 [/caption]